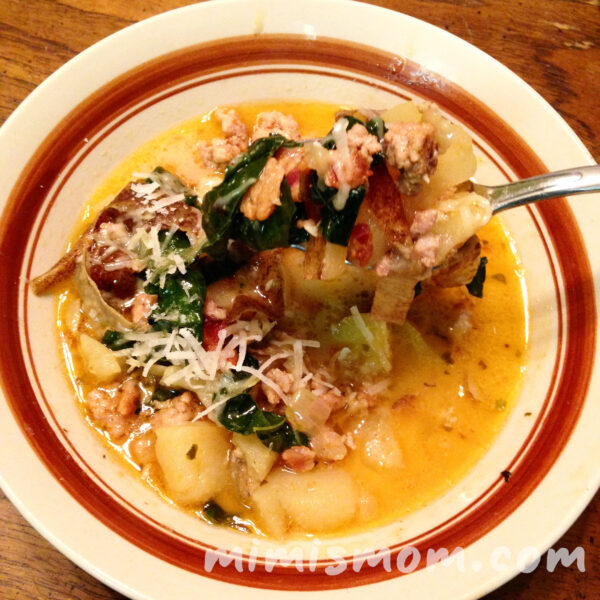 3

large potatoes

halved and cut to ¼" slices (about 4 cups)

1/2

lb

bacon

1

lb

Italian sausage

bulk

1

onion

medium size, chopped

4-5

cloves

garlic

minced

6

cups

chicken stock

1/2

cup

whole cream

2

cups

kale

chopped

Parmesan cheese

to garnish
3

large potatoes

halved and cut to ¼" slices (about 4 cups)

1/2

lb

bacon

1

lb

Italian sausage

bulk

1

onion

medium size, chopped

4-5

cloves

garlic

minced

6

cups

chicken stock

1/2

cup

whole cream

2

cups

kale

chopped

Parmesan cheese

to garnish
Chop bacon, cook until browned, then remove and set aside.

In bacon fat, cook sausage until browned. Remove and set aside.

Add onion to drippings, salt, and cook for about 5 minutes.

Add garlic and cook for another minute.

Deglaze pan with about one cup of chicken stock.

Add remainder of stock, potatoes, and sausage. Bring to a boil.

Simmer for about 20 minutes, until potatoes are cooked.

Roughly chop bacon and add to simmering soup.

Heat thoroughly, another 3 minutes or so.

Serve topped with freshly grated Parmesan.