I am writing a blog post again (I know, shame on me for still being bad at this!) because I am committing RIGHT NOW to participate in Kid's Clothes Week! (Kid's, not Kids Clothes Week? We're only sewing for one kid? Hmm. Oh well.) Yay! Sewing!
So I pretty much came to this conclusion a very short time ago. "Very short" being relative of course, and including the morning I spent catching up on internetting and the early afternoon time I spent writing this post. But anyway, I said I was in on the main blog post and on another blogger's Facebook page, so I'm in. Accountability. Bam.

Kid's Clothes Week is all about dedicating at least an hour a day for the week to sewing for kids. Or prep for sewing. Or something. It's about doing something. And I totally need that! It starts TODAY and runs through next Monday, the 29th. And because I like to cheat, I'm including the thing I finally assembled on Saturday in my pile of KCW accomplishments. So there.
Here's what I just finished. I was inspired to make it due to a sew-a-long on Facebook, but time got away from me, then we went on vacation, then I was sick for way too much of the last month, blah, blah. This is from the Ellie Inspired pattern Hopscotch Girl. I had a pack of five fat quarters (that's a 1/4 yard cut squarish instead of skinny and long, for those wondering) that my mom had picked up last fall at a great local fabric store. Fabric Garden has really nice, high quality designer quilting cottons. So hard to find nice things without having to order these days! This pack was from Michael Miller's line Bonne Amies line by Swirly Girls. It appears to be retired and nearly gone from the interwebs, although some of the basic dots remain. So since I had smaller fabric bits to work with, I pieced the bottom skirt a bit more than the original pattern called for. And then I had a tee shirt of mine I purged due to holes, a stain, and just being too short, so that made the top of the dress. She wore it yesterday and loved it.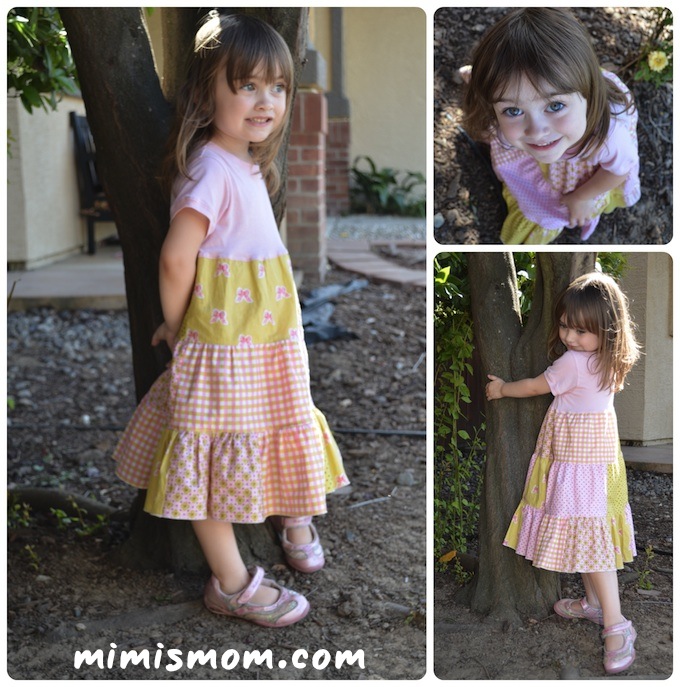 So. What else is on my agenda for this week?
1. A Tie Dye Diva Perfect Party Dress for Ellie. I've got fabric picked out and washed for this. I'm pretty sure this party dress is going to be an every other day dress.
2. A Crafterhours Racerback Dress for Ellie. This one's a freebie, folks. And I think I'm going to do it from more of my purged tees.
3. I should make stuff for my two other kids, right? In her defense, it is Ellie's birthday today, and she mostly has hand-me-downs. Oh, but some awesome hand-me-downs, especially at this size. So, I'm thinking some pieced tees/tanks for my older daughter, and maybe some shorts for my son. Anything that gets the creativity going and helps me build momentum to keep doing more of this on a regular basis is what really counts.
I think this is a really fun event because it isn't a challenge. There aren't any scores, and you don't lose if you miss a day. It's just a simple encouragement to get out there and sew. Luckily for me, it has finally become the perfect temperature for me to get "out there" to my garage sewing studio. The weather makes this new location I'm setting up finally make sense! Let me know if you're participating, or would consider participating in Kid's Clothes Week!