Last post of the year! I'm saying goodbye to 2013, and with that I'm making a promise for 2014. Notice I said PROMISE? I do not make RESOLUTIONS. Mostly because I'm defiant by nature and don't want to be told what to do. So… what's my plan for 2014?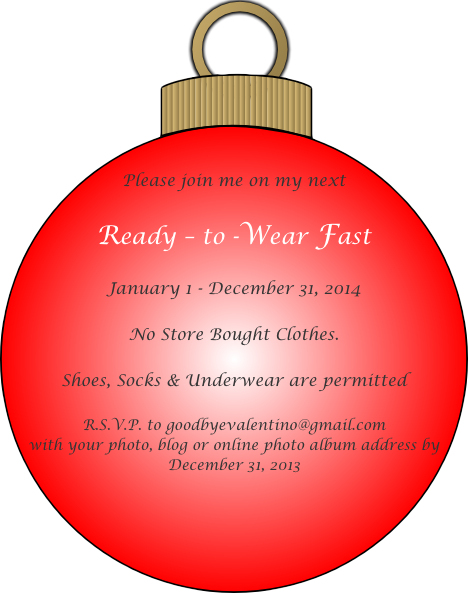 Yep, no store bought clothes in 2014. I'm all signed up and ready to go! For me. I didn't commit the kids or husband, yet. Luckily, I really don't buy that much for myself in any given year. I kinda, um, stocked up about a decade ago when working in retail. No, they're not vintage now, they're timeless! So my challenge will really be to make myself something once a month or so. But this also means no tee shirts, no new dance clothes. Luckily, I have some great patterns for tees, tanks, and yoga pants. I actually do have an awesome undies pattern too, although those purchases are permitted in the fast.
I'm really looking forward to this as a way to push myself this year. I don't get nearly as much sewing done as I'd like, and I really want to see where this year will take me. I'll be posting my adventures along the way!
What new ways are you planning on challenging yourself in 2014? Do you make resolutions?