So although I mainly mean this to be a sewing blog, I crafted something else today and wanted to share it. We love chocolate scones around here, but I've been feeling not so happy after eating them lately. I tried a version of these a couple weeks ago and they were moist but still crumbly, so I wanted to tweak it a little more first. I added a second egg and some flax meal, which definitely helped. This still isn't perfect, but it's passable. And it's corn/nut/gluten free and can be dairy-free.
I only have a known issue with corn, but I'm feeling lately like I'm having issues with gluten as well. I think it's leaky gut so all connected, but anyway. Trying to figure out if the gluten or the sugar (or both) is making me feel yucky and jittery. Can't hurt to cut some out! They're not sugar free, but they don't have as much as they could. One and a half teaspoons per scone. My kids liked these too, well except the small one that had her heart set on blueberry like we had yesterday.
These still have a bit of a crumb issue, but I just don't know how to manage that any more than already. If you change or edit this to improve it, please let me know! For the rice and oat flours, I grind my own in a little electric coffee grinder. Please, as always, use safe for you ingredients.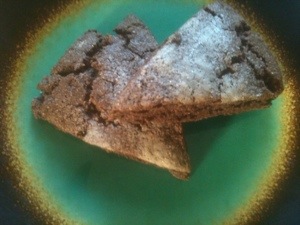 Chocolate Scones – Gluten-Free, Corn-Free, can be Dairy-Free
1/2 cup brown rice flour

1 cup oat flour

1/4 cup coconut flour

2 Tbsp flax meal

1/4 cup cocoa powder

1/4 cup sugar, I used vanilla sugar, to avoid having to add vanilla extract as I'm out!

1/4 tsp salt

1 1/2 tsp cream of tartar

3/4 tsp baking soda (you can skip the cream of tartar and baking soda and use 1 Tbsp safe baking powder instead)

6 Tbsp unsalted butter (or I like a 4 Tbsp palm shortening + 2 Tbsp coconut oil blend)

2 eggs

1/4 cup cream or dairy-free milk like coconut
Preheat oven to 400. Mix all dry ingredients – flours, flax, cocoa, sugar, salt, cream of tartar and baking soda – in a bowl. Cut in butter to dry mix until in tiny bits. *Should 1/2 cup of chocolate chips be desired in the finished scone, this is the time to add them* Then (laziness aside, mixing first in a separate bowl would be more professional) made a well in the center and added the eggs and milk. Blend the eggs and the milk with a fork, then continue to mix to add in the dry ingredients until it is all moistened. It should be a ball of well-formed dough, not too wet and sticky. Add more liquid or more flour a very little at a time as needed. Sprinkle a little flour (whatever available, I had a little rice handy) onto a parchment lined baking sheet. Press the dough ball into a circle, about 1/2″ to 3/4″ thick. I like to spread a little more cream over the top with my fingers, then sprinkle additional sugar on top. Cut into 8 wedges and spread apart for baking room. Bake about 15 minutes.
Hope you like these! Please give any feedback if you try them!