Save Up to 50% on All Craftsy Classes!
I don't usually do much in the way of sponsored posts, but I don't have any projects to show off yet this week! So here's some inspiration to get you started on a project of your own. Check out the current sale going on this weekend for Craftsy classes!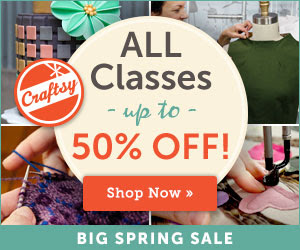 I really like the platform Craftsy has for learning and sharing. You pay for the lesson once, and you can watch it any time, on your own schedule. You can post questions and get help from the teacher and/or other students. Plus, you can upload your own work and see projects others have made from the same class. Right now this class on knits is at the top of my wishlist.
Don't miss out on Craftsy's Endless Creativity Sale! Get ALL online classes at up to 50% off for a limited time only. You won't see hundreds of classes with prices this low again soon. Hurry, offer expires March 17 at midnight MT.
Craftsy's Endless Creativity Sale
**This post contains affiliate links and I will be compensated if you make a purchase after clicking on my links