Happy Thursday! Today I have a really easy and customizable FREE pattern to share with you! I kept seeing a ton of these drape cardigans out there, but nothing in a circular shape like I see in a lot of knitting patterns. So I thought I'd put one together, and I'd give others the chance to grab it too. I'm throwing this up despite my lingering illness, so please forgive my lack of a worn garment on me! You'll have to do with this lovely line drawing for now. I'll feel better soon to show of mine. I hope!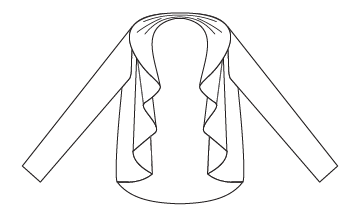 Like I said, this is inspired by circular knitted shrug shapes. I made both a tee shirt weight one and a lined lace and sweater knit version. With the unlined, it's as easy as sewing the underarm seam and then setting the sleeves in place. Finishing options are totally up to you! Jersey knits can have raw edges left. A lettuce hem all around would be great, or use bias binding. A warning, in sweater knit this absolutely must be hemmed or made lined so that the knit will not run.
First, grab the download here. You'll need to assemble the pattern (get PDF pattern tips here), you need a couple yards of 60″ wide knit with a good amount of stretch. You need basic sewing implements- a machine, pins, thread, and scissors.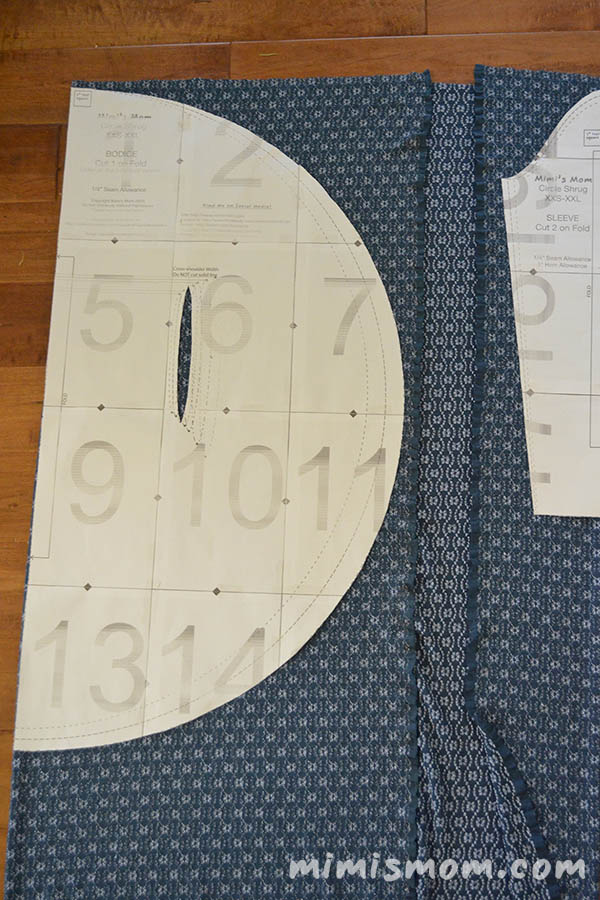 First thing is to cut out pieces on the fold. You need one of two of the circles, depending on your preferences, and two sleeves. I've folded each side into the middle to be able to get the most out of my fabric. Orient the fabric so the stretchiest part goes around your body, perpendicular to the fold.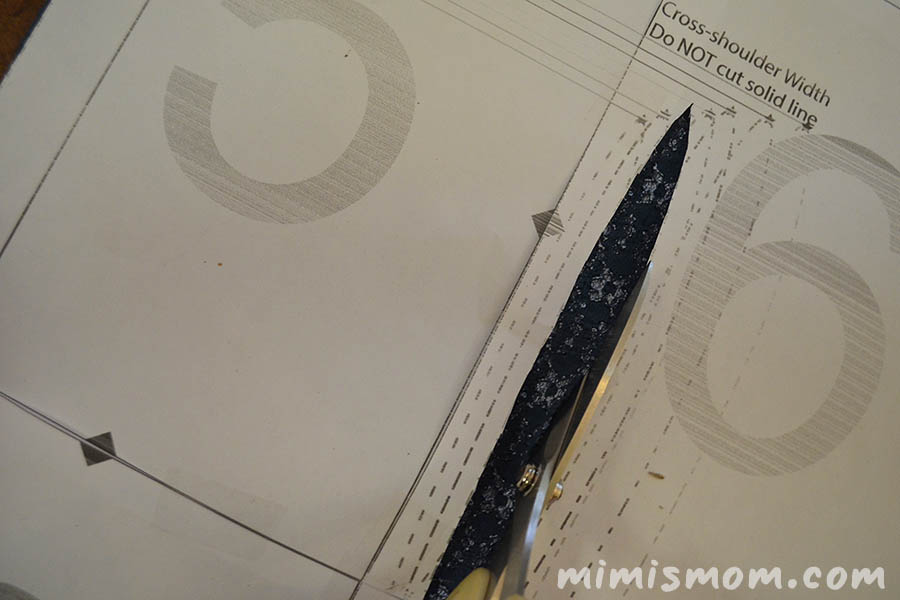 Next, cut out the marked armholes. I keep the fabric folded here and cut through both layers.

Step 1: Sew one sleeve right sides together from underarm to wrist. Repeat with second sleeve. Turn right side out.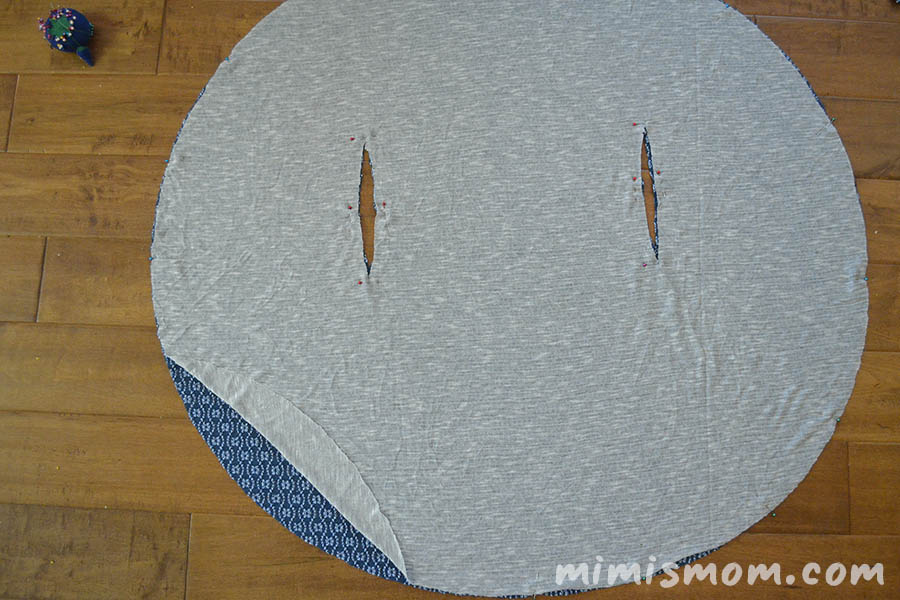 Step 2: If making lined version, pin circles right sides together, sew 1/4" seam all the way around the circle. Turn through one arm hole. Pin or baste armholes to treat as one for the next step. (You don't need to pin them before sewing as I've done here, but it might help align your slippery fabrics.)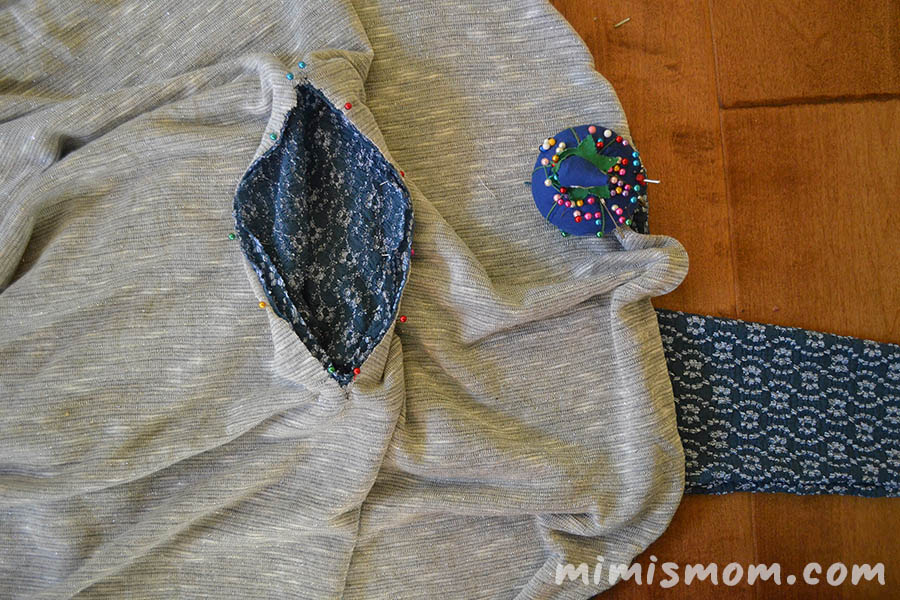 Step 3: Tuck right side out sleeve inside armhole. You'll be pulling the sleeve from the outside of the garment to the inside and pinning from the inside here. Pin sleeve top center at top star, underarm seam at bottom star. Continue pinning around. Sew at 1/4" seam allowance. Repeat with second sleeve.
Step 4: Hem sleeve and circle edge of unlined version as desired, or leave raw. You could finish with a ruffle, with bias binding, with a lettuce edging using your serger. Then wear it! Wear it open, wear it with a pin to close. You could even add a button and buttonhole just at the widest point (or where you like after trying on), just be sure to stabilize your knit first.
So, go grab it! The download is totally free. If you want to chip in and buy me a coffee or put cash toward my Adobe membership, you are totally welcome to do so by entering an amount before adding the pattern to your cart. And I will be eternally grateful! But I just wanted to get something out today there to get stuff done. And my motto I always need to remind myself of is Done is better than Perfect. If you like it, that is all the thanks I need!