More dresses! More skirts! I made another entry for the Summer of No Pants. SONP 2013 has another week to go. Another week before Summer officially starts. Time to stock up on skirts to keep cool and fashionable during the hot weather.
This dress started with surfing the fabric porn on Spandex World. It spoke to me. I had to have it. It would be a perfect mod racerback dress. I made my order finally, it came, and it was not exactly what I'd envisioned. A bit thinner. Ah well, I'd also ordered a nude knit lining for having for some other projects.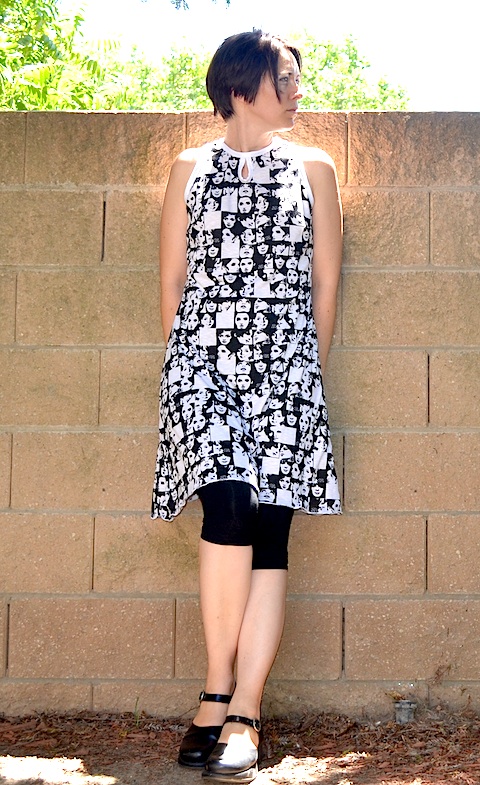 This was a self-drafted pattern. Basically, I took my measurements and drafted a basic bodice block. I read a lot of websites to decide that I wanted a bust dart and what angle to cut the back straps. I compared to an existing racerback tank that I own. The skirt I simply extended the line from the waist-hip line. This was the first experiment I made with fold-over elastic (FOE). I think I'd like the FOE to be narrower, but this works and I'm happy with it.
I bike A LOT so leggings, although not necessary, can be handy. My knee length leggings are a super quick, super comfy pattern by Jocole. Jodi's patterns are just about perfect. I've made a short pair of these before, and they turned out awesome. I cut these to 16 1/2, a line not on the pattern, and gave them a 1″ hem so they fell right under my knee cap. I made these also with a fold-over yoga waist to smooth out the belly under the dress. I'll probably wear each piece separately as well.
OK, so a week to go, I'm going to try to squeeze in two more entries before the deadline! Maybe skirts. Maybe some upcycling. If you like my design, please vote for me by repinning it! And see more of the entries for SONP2013 at the board here!