I started blogging about my design on Tuesday. Here's the part 2 of that!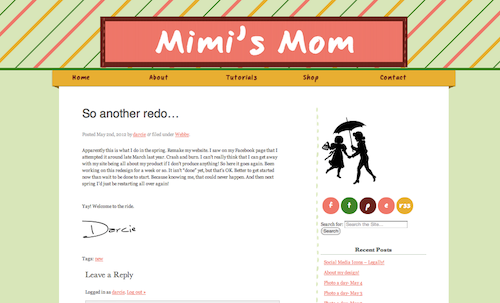 As I mentioned, I became a fan of COLOURlovers when using Twordder on my previous site. So when they started sending around invites to their new Creative Market recently, I jumped on that. It's still getting ready to launch, and for a limited time they're offering free samples of some of the cool design goodies they plan to offer. I think I downloaded about half of them! My previous font for my logo had been pretty and foofy and swirly, but I'm a little more rushed now, so I thought more casual would work better. I picked: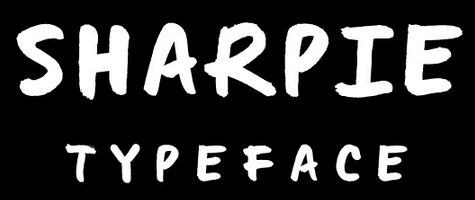 I use GIMP for image editing because the pricier things are out of my price range. I downloaded the trial recently, and hated it anyway! I'm quite happy with my free and open source software. My stitches on the logo and as the line to the left of the sidebar were made with the brushes from Obsidian Dawn. Very cool resource. I'm sure I'll go there again for design goodies!
I did use CSS to make some social media button circles without using any images and felt pretty awesome about figuring that out! Until I read yesterday that we're really not supposed to be making our own social icons. This is probably the most unknown thing in the blogosphere! I posted about it earlier today, and I'll be working on replacing them this afternoon.
Last but not least, I needed a graphic. Something to define me. I could get a picture of me, but I have no good cameras and I'm usually the one taking the pictures. Bah. How about something that goes along with my site name? The Graphics Fairy came to the rescue! Talk about a great resource. She has everything! So… my site is called Mimi's Mom. And I like to make purses. I looked for some images that might go, focusing on silhouettes. I found these two- two ladies with lanterns and kids playing dress up. Neither were quite right, but I fixed that! Using the first image, I shrunk the girl on the left to look like a child and mother. I took off their cool lanterns (wish I needed something with lanterns!) and gave the mom the other image's umbrella. Then turned the little girl's into a purse. That was freehand in GIMP. I think it works, what do you think?
All in all, I'm happy with it so far! I need to finish CSS edits for smaller screens because I kinda went about it backwards and skipped that. I need to edit those icons in the sidebar. But I'm excited about how much of it I wrote myself and cool things like using CSS for the menu (yep, another place where there's no images!) and using web fonts. Now to actually use my site. I figured blogging about the process would be a good way to get started!
Thanks for reading, and hope to see you (and me) back!