Our family's favorite potato soup. This gets made probably twice a month in the winter, and the girl with a late August birthday usually requests it for her birthday dinner. It's that favoritest. However, it started out as a humble attempt to replace the Olive Garden Zuppa Toscana now that 1) we're not living near an Olive Garden and 2) I'd be allergic to anything within their walls.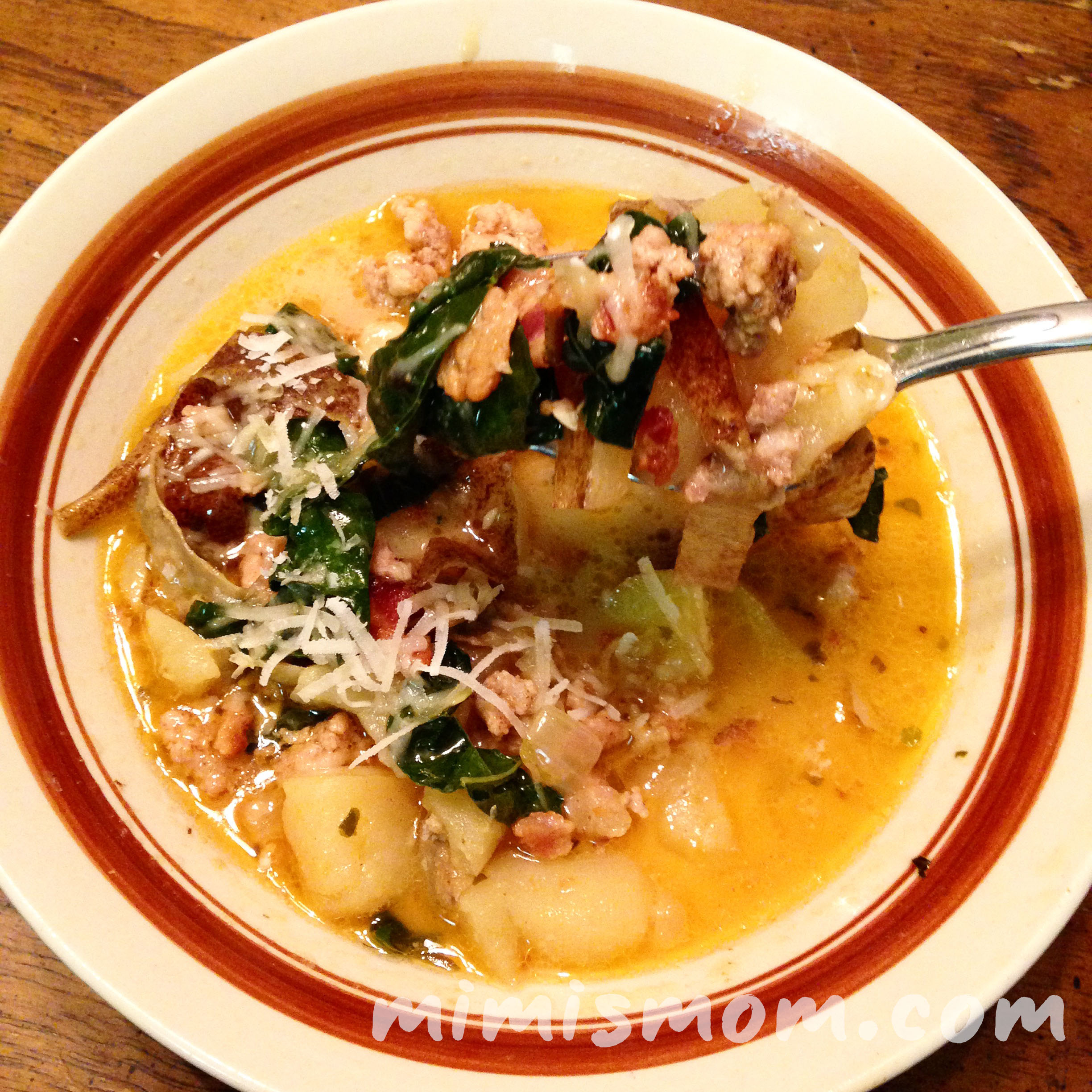 I had a couple requests for the recipe, and apparently I hadn't actually added it online yet! Now I won't have to steal my daughter's 4th grade project whenever I forget how much chicken stock to use.
So, there it is. Oh, you don't want to read off my kid's awesome typed homework project? OK, fine. I'm adding a recipe plugin below instead then. This is my first recipe using this plugin, let me know if it works!

Favorite Potato Soup
This hearty and lightly creamy favorite potato soup is packed with flavor and may even get your kid to eat some kale.
Ingredients
2½ large potatoes, halved and cut to ¼" slices (about 4 cups)
½ lb bacon
1 lb bulk Italian sausage
1 medium onion, chopped
4-5 cloves garlic, minced
6 cups chicken stock
½ cup whole cream
2 cups chopped kale
Parmesan cheese to garnish
Instructions
Chop bacon, cook until browned, then remove and set aside.
In bacon fat, cook sausage until browned. Remove and set aside.
Add onion to drippings, salt, and cook for about 5 minutes.
Add garlic and cook for another minute.
Deglaze pan with about one cup of chicken stock.
Add remainder of stock, potatoes, and sausage. Bring to a boil.
Simmer for about 20 minutes, until potatoes are cooked.
Roughly chop bacon and add to simmering soup.
Add cream and kale.
Heat thoroughly, another 3 minutes or so.
Serve topped with freshly grated Parmesan.